SACRAO 2018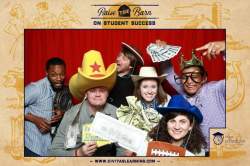 SACRAO 2018 – (just outside of) Nashville
"I won't apply for it this year, I just can't afford to be out of the office for *another* week at the moment…" was the internal monologue I had prior to applying for the SACRAO bursary last year. We were (are) in the middle of implementing a new student record system, I was managing long term staff sickness in my team and the conference was going to fall right at the time we usually publish the draft exam schedule. I couldn't possibly take the time out…could I? My boss thought differently. "I think you should apply", she said. "I suppose this year isn't any worse than any of the next few years", I replied. A few months later and I landed at Nashville International Airport for my first trip to the USA, excited to attend SACRAO 2018 and see what I could learn from our American colleagues.
Let's start with the basics. SACRAO stands for the Southern Association of Collegiate Registrars and Admissions Officers and holds their annual conference every February in one of the southern states of America. With aims similar to SROC but throwing admissions in to the mix too, the programme is vast and varied and includes sessions covering data, management, admissions, systems development, student experience, equality and diversity, data protection and everything in between. A number of software suppliers also offer roundtables at the end of the conference for those who want to an update on developments.
With so many session to choose from, it is easy to feel overwhelmed by the choice available and so I made a conscious choice to pick a couple of themes that I followed throughout the conference. Although I wanted to learn more about the American HE system, I also wanted to attend sessions that were relevant to my role in the UK or that would provide interesting insights that would benefit SROC and my institution, which led me to focussing on management and equality and diversity sessions. Whichever sessions you pick it is easy to quickly learn the basics of the US system (if you don't already know about it) but you also quickly realise that whilst the structures are different, the challenges that we face are broadly similar.
There were two sessions in particular that I found very useful. The first was a session called "Making discretionary decisions in a rules-based world" in which the presenter discussed their process for making discretionary decisions and provided some practical examples as well as opening up to some of the challenges surrounding those scenarios. What was particularly interesting was the discussion that followed with many people sharing their experiences and hearing of different approaches as well as the shared challenges. The second was a student panel on how universities can support LGBTQ. As well as sharing some of their experiences, they also opened the floor to questions, providing honest and helpful answers to a variety of issues such as "how can we help you to ensure your record is updated correctly?" and "what are the common challenges you face?" It was great to hear the student perspective in a friendly and honest environment from people who just wanted to help us support them better.
The conference is much bigger than SROC but it still has that friendly and open culture that we have each year. Due to the size, they host their conference in a conference centre rather than at an institution but like SROC they use local organisers to plan and run and they do an excellent job. There is plenty of freebies from the exhibitors and they are a very friendly bunch who were happy to have a chat even though there was no prospect of me buying their product.
Should you apply for the bursary? Absolutely! Two bursaries are offered and you get to attend with a committee member too so you don't have to go alone and the experience is fantastic. If you would like to know more, do get in touch and I'd be happy to answer any questions.
Mick Norman | Data Quality Manager, Central Student Administration, University of Kent