SACRAO 2013 - Letters from America 1st Feb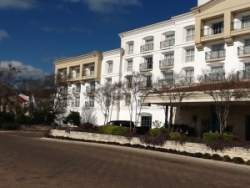 Strictly speaking, this is actually from over Greenland, heading for Chicago, as currently I'm in transit to the SACRAO 2013 conference.
We have just been told that the current temp in Chicago is -15c. Hopefully there will be a bridge attached to the plane when we land and that we do not have to face the bleak winter of the Windy City via steps from the plane. Mind you in San Antonio Texas, it is due to be 22c - that's where the conference is this year! Well that's just probably cheesed you all off knowing I'll be swanning around in T-shirt and shorts (well jeans) while the rest of you are subjected to the delights of a depressing 1st week in February.
Hopefully, this blog will introduce you to the practicalities of attending SACRAO. Maybe it will encourage you to think about applying for the SROC bursary next year? If you attended SROC in 2012, you will know that we offer two £1500 bursary each year to any SROC 2012 delegate, err, that's not every delegate… two delegate bursary awarded per year! This year it will be Ruth Davies from the Sheffield Hallam University and Shane Radford from King's who are attending and they will be giving a 15 min talk at the Lincoln conference sharing their experiences. Me, well as a member of the SROC Steering Committee, I also was lucky enough to be awarded a bursary, (the committee probably thought I needed some staff development)?
| suppose my aim is slightly different to Ruth and Shane's in that I hope to be re-affirming links between SROC and SACRAO as there have been no practical exchanges between the two organisations for a couple of years. The previous chair of SROC was the last SROC committee member to attend SACRAO - it must be at least 5 years ago now… and I'm hoping to see if we can get a leading player from SACRAO to maybe join us in either Lincoln or maybe 'XXX' next year (spoilers)!
Interestingly, from observations to date and I know I'm slightly biased as I help organise SROC, but in terms of organisation I think we are well ahead of the game when it comes to defining the conference package. We have worked hard to provide a 'what is included' when booking to SROC. If we didn't take that stance, imagine asking your manager for you to attend the conference dinner at SROC if they could see the cost could be reduced by £x amount by opting out! (no, you can eat on your own! - I want to save some money). In my view, a conference should be a whole packaged experience. In America, there are so may add-ons to the basic conference fee. Hotel accommodation is not included, meals not included, local taxes to be paid, opt in for this, opt out for that. It takes a little working out so if you do 'win' the bursary of £1500, you will soon see why it is that amount. Yes, food not included (so keep your receipts).
Again America HE does things differently. Corporate sponsors expect to be able to contact conference delegates. To date, I've 17 emails all inviting me to exhibitions and software presentations away from the conference programme. I have the potential to win about 4 mini-iPads by just walking through the doors - so it seems. However, there are no free dinners in this world and once they have your details…
We have a different view at SROC. Exhibitors are their to show developments and to contribute to sharing good practice. They know we do not control budgets or decide what software to purchase by ourselves. They know that we permit delegates to opt out of corporate mailings, before, during and after the conference. This is the way SROC operates; we try to reflect the needs of the delegates not the expectations of outsiders!. Look out, this is starting to get heavy!
A big positive for the SACRAO delegate is that they can access an app that allows them to easily schedule their sessions. However, they do say that even if you use this, they will not guarantee your place at the session. There are pros and cons to this - decide your sessions when booking a place to the conference vs having flexibility should new sessions be added by selecting them when at the conference. Hmm maybe not a positive - you decide!
Time to walk up and down the plane - stretch legs, spend a penny etc. The next rambling will be on Sunday. Saturday is partly a pool day I hope before the conference starts on Sunday at 13:00. Monday starts from 7:30 - yep, AM! I think American's must be morning people? Pity I'm not!
PS: arrived safe and well but tired. Picture is the conference venue.
(uploaded Saturday morning - all ramblings are Phillip's and are not official comments from the SROC committee).