Craig Duncan: a new SROC committee member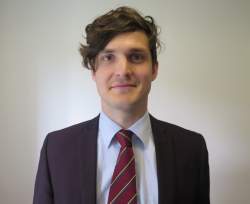 I work for Cardiff Metropolitan University as a Senior Registry Officer with responsibility for Student-related Management Information and Statutory Returns. I have been in this position for a little over a year now and find the role both challenging and satisfying (when things work!).
I must admit, I have never been to a SROC conference. Apart from attending a very insightful Day Session regarding Data Capability, I had had very little exposure to SROC. On opening a forwarded email sent to me by my manager from the SROC committee regarding a call for new members, I digested all the information available regarding the committees work. After careful consideration, I applied to become a permanent member of the steering committee. I felt that what I lacked in experience, I made up for in enthusiasm to both learn and put forward new ideas.
I found the steering committee to be extremely welcoming and willing to listen. It was heartening to learn that all levels of university administration were represented and respected in equal measure. Furthermore, it is a great arena for sharing new ideas and approaches.
The work involved to ensure a successful conference is no easy feat: I have a lot of respect for Northumbria University for embarking on this huge task. It has become quite apparent that there are many component parts which combine to create a conference that both satisfies delegates during their attendance and entices them to return the following year.
The general organisation of the conference falls to the host university, with responsibility for key areas lying with committee members who have primary and secondary responsibilities. Excellent financial planning by Maggie has ensured a reduced ticket price for delegates compared to last year; the break-out sessions are being superbly managed by Lorraine – a wide range of topics are being covered which are especially relevant given the changes around HESA Data Futures and Postgraduate Loans; furthermore, the website – in safe hands with Phillip - has had a complete overall, making it much more pleasing on the eye.
So, I'll end by saying: head now to the following webpage for more information or better still to book your place at this year's conference!
Return to <Homepage>