Are You Ready for SROC 2020?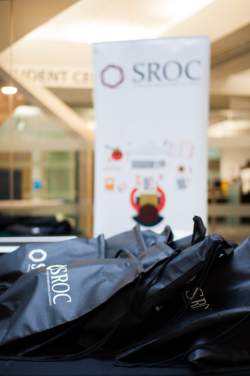 The Committee and local organisers have been hard at work pulling together the programme for SROC 2020 which, just in case you've missed previous announcements, will be held from 6 – 8 April 2020 at the University of Huddersfield.
Accommodation is in a number of local hotels and the main conference events will be held in the iconic Oastler Building with our Monday evening event hosted by Huddersfield Students' Union.
Following on from our optional Monday afternoon sessions at Cranfield earlier this year, we will be offering a range of optional visits including the award-winning Holocaust Exhibition and Learning Centre, Heritage Quay and 3M Buckley Innovation Centre, all of which will be bookable in advance.
We have a bumper crop of volunteers from across the higher education sector to deliver some wide-ranging topics as breakout sessions and a variety of plenary speakers, including Huddersfield's Vice-Chancellor Professor Bob Cryan CBE DL – but you'll be able to read more about what we have planned for you when conference bookings 'go live' in the new year!
You will be pleased to know that we are able to keep the delegate fees for the conference at 2019 levels, so a full 2-day residential delegate package will cost £440, which we feel is a very competitive rate for a conference in the higher education sector which offers a wide variety of development and networking opportunities.
2020 is a very special year as it is the 30th year since SROC was founded (although not the 30th conference as the first conferences were organised under the auspices of the, then, CUA). It's also our Chair's 30th year of working in HE and her last conference as Chair of SROC, so we'd like the conference dinner to be a bit of a celebration event – which means don't forget to pack your 'glad rags'!
We hope you agree with us that SROC continues to be great value for money with relevant, focused content and a supportive and vibrant community. If you don't already engage with us on Twitter or Linked-In then why not? Our Twitter handle is @SROC_HE so look out for our 'Week in the Life' Twitter take-overs from staff across the sector, and keep an eye out for our regular blogs.
Don't forget to keep an eye out in January for the emails advertising that bookings are 'now open'!
Hopefully it's not too early to wish you all a very Merry Christmas and a Happy and Peaceful New Year.
All of us on the SROC Committee