AACRAO Letters from America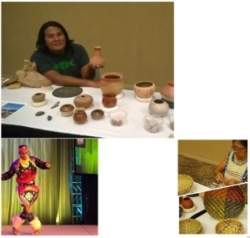 Letters from America - Maggie New (SROC) attends the AACRAO Annual Meeting in Phoenix
Day 1 – it is all about Indians!
As part of SROC I am privileged to be in a sunny Phoenix for the AACRAO Annual Meeting. That is the American Association of College Registrars and Admission Officers annual meeting. About 2000 attendees on a gorgeous sunny day – clear blue skies and 87 degree Fahrenheit. We are in the Phoenix Convention Centre and air conditioning is standard!
Day 1 is an intro. A new attendees session, a plenary, refreshments in the exhibition. Everything is on an amazing scale! There is a local theme and it is all about Indians. Appropriate for Arizona with many indigenous tribes building their communities and cultures. The welcome address began with music and dance performances by a local Indian group. Then the opening Plenary was a really interesting talk from an award winning author on an early photographer who invested 30 years of his life taking pictures of the disappearing tribes and their customs.
The refreshments were in the exhibition (they call it a Trade Show) which was huge. Loads of exhibitors and some really fancy stands and displays. I did not linger here as there was also a number of Indian craft stalls with crafts being made and sold. (I could not resist a lovely delicate pot and took a photo of the maker. Can't wait for tomorrow!
Day 2 – a full on programme – and more Indians!
It was up early for an 8am start. Yes the first session started at 8am! And it went through to 5pm – but only as I skipped the Town Hall AACRAO business meeting which went on until 6! At 6pm there was a reception hosted by the main corporate sponsor. So a long day with only 15 mins between sessions.
There were about 10 choices for each optional session and I had chosen a really interesting one on what 2 universities are doing to manage in difficult times. The next was how Stanford had standardised the start times and teaching models – to the initial horror of both faculty and students. Another interesting optional session today was a presentation on how two universities are geared up to deal with parents.
The Indian theme returned at the lunch session that I had chosen. A Professor from Northern Arizona University and a Navajo described programmes to help the indigenous communities across North America develop. And I never made it to the exhibition today – I did try but there were different Indian craft staffs and I just had to shop!
The afternoon Plenary was a bit different – an easy chair Q&A with a retired Policy Officer from the US Department for Education. There are many similar issues on both sides of the Pond.
Tomorrow is a 7am start so I have to set the alarm!
Day 3 – Where the wild things are!
Another great day at AACRAO. An 8am session trying to figure out the US sequence for scheduling and student choice. Then I did 'do' the exhibition. It took a long time. So many US suppliers of student systems including some which focus on aspects that we don't much recognise in the UK such as 'degree audit' and 'credential checking'.
And after the exhibition the Indian traders were back and I just had to get that hand crafted silver ring 😊
The catchiest session title was really popular: 'Where the Wild Things Are: Operational Efficiencies in the Registrar's Office'. Do most of us consider ourselves to be wild things? It was a funny talk about how one small registry team had changed to be customer focussed and more resilient.
After a plenary from a US VC on diversity, the afternoon felt long and I was getting really tired, but I stuck with it. A couple of valuable sessions – one on centralising registries and one about on-line academic approval panels. I know - I am indulging the inner geek!
The day ended with an International Educators Reception which started at 6.30. The meal ended 10.30ish and I am exhausted but it was a really enjoyable evening.
Last day tomorrow.
Day 4 - University of Phoenix
The final day was different as I had opted to miss the usual sessions and go see the University of Phoenix instead. A massive private university with a major on line presence. 100k+ enrolled students and a large on-line presence in many countries, and 160+ campuses.
So a group of us were out early and on a bus. U of P had arranged a lightening quick tour around their admissions and registry teams. Large open plan space, large teams focussed on tasks and amazingly high volumes. Eg 300k+ official transcripts issues a year, 172k+ applications a year, 200k+ parchments a year etc. Teams just focussed on verification of APEL or equivalent study, on checking entry qualifications etc.
After that they took us to a teaching centre and we saw a really impressive high tech classroom, a normal classroom (which was pretty high spec.) and a phenomenal resources area. Everything was so impressive and clean and inviting.
The last session of the conference was a plenary done the American way. A well known humorist and author, Dave Barry, had us laughing in the aisles as he brought the conference to a close.
I have really enjoyed this conference and learned so much. More of us need to get ourselves over to see our American cousins if we can.
Maggie New